British celebrity chef Gordon Ramsay opens his flashy, full-service restaurant at the Wharf tonight—his first Hell's Kitchen outside of a hotel or casino (it has siblings in Atlantic City, Vegas, and beyond). The massive restaurant spans two floors, a waterfront patio, and second-story terrace. Helming the kitchen: Christina Wilson, the season 10 winner of Ramsay's hit cooking competition show, also called Hell's Kitchen.  It's all set up across from Ramsay's casual fish-and-chips spot, which opened late last year.
So what's all the fuss and Mayoral ribbon cutting about?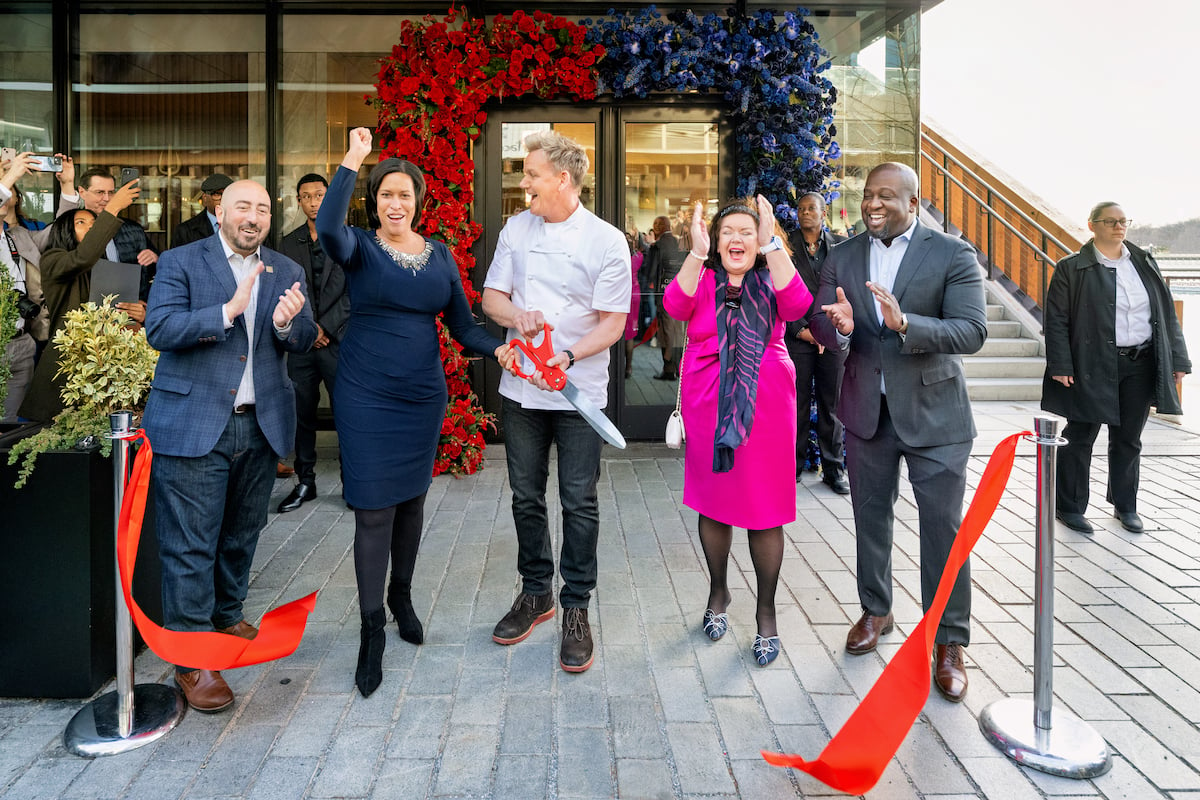 Ramsay sells 1,200 beef Wellingtons a day in Vegas (and he's aiming high here)
DC is swimming in Wellingtons these days. But Gordon Ramsay is the self-anointed "Ambassador of Wellington" and serves an eye-popping 1,200 Wellingtons PER DAY at his Hell's Kitchen in Vegas and its two adjoining restaurants. Ramsay's love of the dish dates back 20 years to London's Savoy Grill.
"When I put my menu together for my first restaurant in 1993, the only thing I could afford was oxtail, and my dream was always to have a filet," says Ramsay. 
Diners can taste that dream: a six-ounce filet mignon wrapped in mushroom duxelles, English mustard, and homemade puff pastry. It'll set you back like a fancy steakhouse at $65  a pop. 
Old-school Ramsay, known for his bombastic TV persona, might have tossed a TikTok influencer out the door. New-school "Instagramsay" is a far more relaxed TikTok influencer himself, and is happy for attention on all platforms. 
"Every phone's a critic," Ramsay says. "When chefs get slightly anxious of customers taking their close-ins— that's their [the customer's] prerogative. I love it when they go viral with those shots."
So yes, beet salads arrive under camera-ready smoking cloches, and $20 cocktails (also smoking!) arrive in old time-y lanterns. It's quite a setting. The restaurant juts out into the Washington Channel, unlike any other at the Wharf, with water views on three sides. Inside, the blue-and-red color scheme nods to the TV Hell's Kitchen (as do the chef uniforms). And Ramsay's visage is featured, well, everywhere. 
New-school Ramsay is also a health nut and a triathlon competitor (you might catch him running around Hains Point, and we can only wish on our celebrity stars that he swims with Lorde in the Potomac). Much on the regular menu is gluten-free, and there's a separate vegetarian and vegan lineup that includes dishes like pan-seared tofu "scallops," vegan butternut-squash risotto, and quinoa salad. To drink: $10 mocktails like a Chesapeake Cooler with lime, coriander, jalapeno, and smoked salt foam.
The online reservation system leads one to believe that a table for two is available—in March. The good news: with 14,802 square-feet, there's a chance you could walk in (off-hours at least) and snag a seat.
Chances are you won't get a ton of face time with the celebrity chef in the restaurant. But Ramsay fans can (kind of) communicate via the Notes From Gordon cocktail—a mix of gin, green tea, lemongrass, peach, and lemon, which is garnished with an "iconic Gordon Ramsay quote." Let's hope it's: "Right now, I'd rather eat poodle shit than put that in my mouth." (#13)
Just when you think we have every imaginable pizza style in DC, all-you-can-eat British pizza is still missing. That is, until   Ramsay opens a branch of his London-based bottomless slice joint, Street Pizza, in Penn Quarter (timing TBA).
Hell's Kitchen. 652 Wharf St., SW
Anna Spiegel covers the dining and drinking scene in her native DC. Prior to joining Washingtonian in 2010, she attended the French Culinary Institute and Columbia University's MFA program in New York, and held various cooking and writing positions in NYC and in St. John, US Virgin Islands.