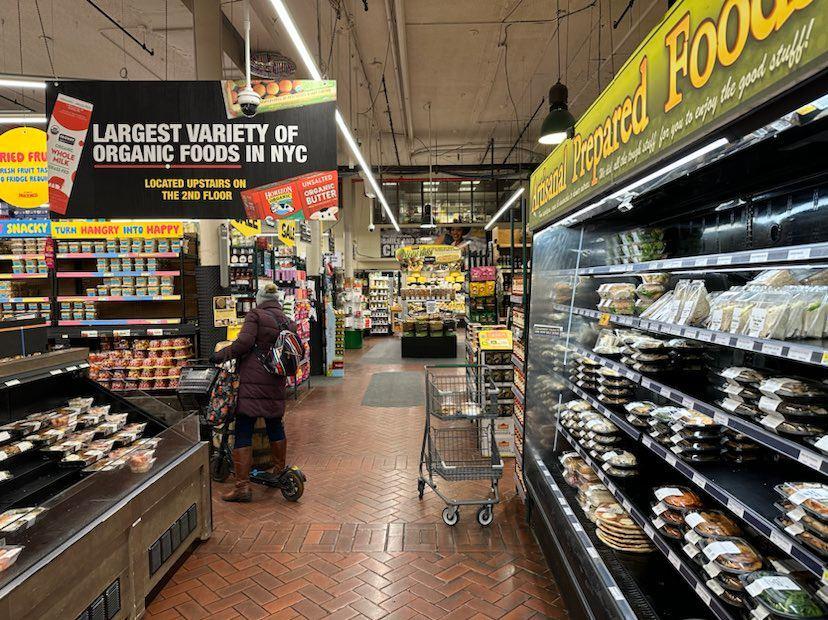 Say cheese while you're buying cheese: Fairway Market has confirmed with ILTUWS that they're currently using facial recognition technology that has the ability to collect, retain, convert, store and share all their customers' biometric information.




"This technology is helping our stores reduce retail crime, an industry-wide challenge that has increased dramatically over the last few years," said Karen O'Shea, a spokeswoman for Wakefern, Fairway's parent company. "Only trained asset protection associates use the system, which helps us focus attention on repeat shoplifters. We follow all applicable laws, including posting signage in the stores to make shoppers aware of the use of biometric software."
ILTUWS visited Fairway Market last Sunday and Monday, March 12 and 13, looking for Fairway's legally required signage about using facial recognition tech, and to speak with employees about the practice.
During both visits, nobody at the grocer, from staff to hired third-party security, were sure whether or not Fairway Market, acquired by Wakefern Food Corporation in 2020, was actually using the technology to collect its patron's biometric information. One security guard responded with a smile, saying "they could be," but when we followed up saying we couldn't find any signage about it, they directed us to speak with customer service to confirm.
"I don't think we're using facial recognition," said a Fairway customer service rep last Sunday, March 12.

This feedback from Fairway staffers appears contradictory to Wakefern's statement. "A notice re: use of biometrics is posted at the front door entrance of the 74th UWS store," said O'Shea, but we couldn't find any such signage during either initial visit.
O'Shea went on to say, "Retail theft and shoplifting has a high rate of repeat offense and drives up grocery costs for all customers. We have found that this technology — used thoughtfully and in combination with other measures we take to reduce theft — is helping prevent more crime in store."
ILTUWS asked several customers walking out of Fairway if they saw any signage indicating use of this technology. Responses ranged from, "What? Seriously?" to "No, I hope not."
One patron wondered if facial recognition was being used at the self-checkout kiosks as cameras are right in your face as you check out. However, we didn't see any signage posted at those locations either.
At roughly 7 a.m. on Tuesday, March 14, ILTUWS returned to Fairway to see the signage now taped to its door.
Wakefern also confirmed facial recognition technology is being used at their Upper East Side location at 240 East 86th Street, between Second and Third avenues, and it was recently revealed in the
New York Times
that the Fairway in Chelsea is using the technology as well.
Get us in your inbox:
By subscribing, you are agreeing to receive occasional messages from our sponsors.


Loading…

Thanks for subscribing!









Sharing is caring!
Bobby attended Franklin Pierce University in New Hampshire, where he studied journalism and wrote for local children's magazine Moo Cow Fan Club.
Years later while living in New York City, trudging home on a dour January day, Bobby read his favorite bookstore, the venerable Westsider Rare and Used Books, would soon close its doors due to ballooning rent. The owner was quoted saying the only thing that could save his shop was if someone raised $50,000 but doubted anyone would do it. Bobby immediately sprang into action, wanting to show the owner that someone would indeed answer the call.
Single-handedly launching a viral online fundraising campaign that reached far beyond New York City, Bobby helped raise the money in just four days, with the bookstore's saga receiving coverage in the New York Times and NBC. Having spent years exploring Westsider's cramped and cozy aisles, it warmed Bobby's heart seeing people come together to save something they truly loved.
A proud Upper West Side local, you can typically find Bobby in Riverside Park, at the New York Philharmonic, or recording poetry for his YouTube Channel, Bobby Slam, in his beloved Westsider Books.
You can also follow Bobby on Twitter and Instagram.
Bobby is also a regular contributor for EastSideFeed.com. His articles for this publication can be viewed here.
One more reason to avoid Fairway, aside from the much higher prices and poorer selection compared to pre-Wakefern days.
WAIT..Isn't this a Citizen Invasion of Privacy?
HELP..Are we living in CHINA? Is this LEGAL?
Another reason to shop ELSEWHERE
Wear dark glasses ,a hat and a covid mask.. Disguise..No kidding..It's happening 'everywhere' all the time..Gristedes recently tried to charge me $3.49 for a single carrot..ALWAYS check your check..
Fairway has been dead to me for a while now.
What a sad shell of its former self is Fairway. I don't even bother shopping there anymore, and it used to be pretty much my favorite store in the world! Private equity is a destructive menace.
The Glickberg family chose to sell to private equity.
And both private equity firms that owned Fairway did a better job than Wakefern, which is ostensibly a large supermarket company based in NJ, most well known as Shop Rite.
u must not be that familiar with Fairway's history. grandson glickberg oversaw the decline by sucking money out, he had very little experience, but thought he was a retail genius, lucky he had the family name; the 2 pvt equity firms were worse – no clue how to run, but also able to suck money out. and, curious how u "think" they did such a good job? guess U did not visit regularly or u would have noticed the deterioration, as well as putting FWY into Ch 11. ShopRite/Wakefern has dumbed down further, but at least it's a better alternative than the higher-priced Pioneer, which is weird in itself that people shop there unaware of their pricing. FWY, years ago, known for having great produce, specialty products, professionally staffed – sadly, no more
Like "Huh" said: One more reason to avoid Fairway. Note: Watch out for moldy produce. It's usually hidden at the bottom of packages.
It is psychic pain to shop at "Scareway" Rearrange the check out process so one does not wait in the aisle blocking the products.
Covid is over……………..are they ever going to pack our bags again?
Thank you, Fairway, for attempting to keep your store open in the face of rising crime and shop lifting! If this is what it takes, then I am all for it!
Dave,
Perhaps if Wakefern hadn't driven long time managers and floor employees away, the store's staff would be more alert to repeate shoplifters.
Furthermore, by incompetently installing and maintaining self-checkout machines + increasing prices and decreasing selection relative to other area markets, Fairway has driven long time customers away.
Facial recognition is just another reason to shop there less often.
Target has been doing this at their self-service checkouts for a while now. I never noticed any signage there.
Just curious: Anyone know what Trader Joe's, Whole Foods or Pioneer are doing with regard to this procedure/policy?
Well the first 2 are huge subsidiaries of even bigger corporations, so the tech has likely been tried in at least some stores.
I'd speculate no in the case of Pioneer.
But unlike Wakefern, Pioneer retains employees so repeat shoplifters would be noticed by floor staff.
Part of Fairway's shoplifting problem stems directly from not employing people for very long. There's a huge turn over in staff; that's even in those new since Wakefern took over the name.
Everyone needs to take a chill pill! No, this is not China or Russia or even particularly nefarious.
Consider. Thousands of stores have had closed-circuit TV cameras whose tapes can be checked at any time. So you have been videotaped millions of times at thousands of stores, yet I'm sure no one was ever bothered by this.
The only difference here is that the image collection is maintained, and can be compared from one day to another to show that someone is a "serial" shoplifter, thief, etc. The store would still need to go through the NYPD to actually determined WHO a person is. The same way "old" c/c videotape is used, except that most stores with c/c cameras do not maintain the tape for more than 6 months, and some for only 24 hours.
So while any increase in the "surveillance state" can be unnerving, Fairway doesn't know who you are (i.e., personal information), or any details about you. All they know is that you came into the store, and that you have done so more than once. And if you have stolen something, they will be able to see whether you have done so before.
So, smile! You're on not-so-candid camera!
Advise..Disguise..Wear a hat dark glasses and a covid-19 mask when you approach the check-out if you dont wish to be identified..and ALWAYS 'check' your check..No we are not in China but but we are using Chinese technology,,and you dont have to smile even though you are on a 'candid camera'