| Source: CloudMD Software & Services Inc. CloudMD Software & Services Inc.
Vancouver, British Columbia, CANADA
VANCOUVER, British Columbia, March 01, 2023 (GLOBE NEWSWIRE) — CloudMD Software & Services Inc. (TSXV: DOC, OTCQX: DOCRF, Frankfurt: 6PH) (the "Company" or "CloudMD"), an innovative health services company transforming the delivery of care, is pleased to share the results of its study conducted by ANDx Research Group: Unlocking the Potential of Employer-Provided Health Benefits. CloudMD sought to investigate what kind of healthcare benefits employees are using, what services aren't being used and why, and what could be done to improve utilization. Overall, the study identified a misalignment in the market today between the rise of employee mental health struggles and the limited utilization of support programs offered to them.
Key findings include:
There is a clear opportunity for companies to increase employee wellness and job satisfaction and thereby reduce burnout and absenteeism by removing the barriers that prevent employees from fully benefiting from the supports offered to them.
The full whitepaper including suggested improvements to traditional benefits is available for download here.
"This survey tells us that employees want help in understanding and navigating their mental and physical health benefits. Employers' investment in health & wellness programs needs to include navigation services to enable people to gain access to care that meets not only their needs, but also their preferences," said Karen Adams, CEO of CloudMD. "If employees aren't fully utilizing the care available to them, this diminishes the value that both employees and employers receive, resulting in lower employee satisfaction, deteriorating mental and physical health, and higher rates of absenteeism."
Karen Adams continued, "We've repeatedly demonstrated that health navigation closes the utilization gap and increases return on healthcare investments. Historically this approach was used to navigate complex disability cases. Now we use that same process to help connect employees to the right services and support them throughout their entire journey. Our unique set of services are proven to break down traditional barriers around availability, time, confusion, and stigma and provide the widest choice in access and delivery to meet patients where they are."
CloudMD will present the study findings and recommendations at the inaugural HRD Wellbeing Summit Canada on March 1st which is bringing together thought leaders and HR innovators from across the country to share their strategies for launching the workplace into the era of wellness.
CloudMD will also present a session with Manulife on implementing TAiCBT in the workplace to improve mental health and disability outcomes.
The HRD Wellbeing Summit Canada will also see presentations from Air Canada, Hootsuite, Cowan Insurance Group, Marriot Hotels, LCBO, RBC Insurance, Ontario Teachers Pension Plan, Starbucks, and many others. The full agenda is available at https://www.wellbeingsummit.ca/.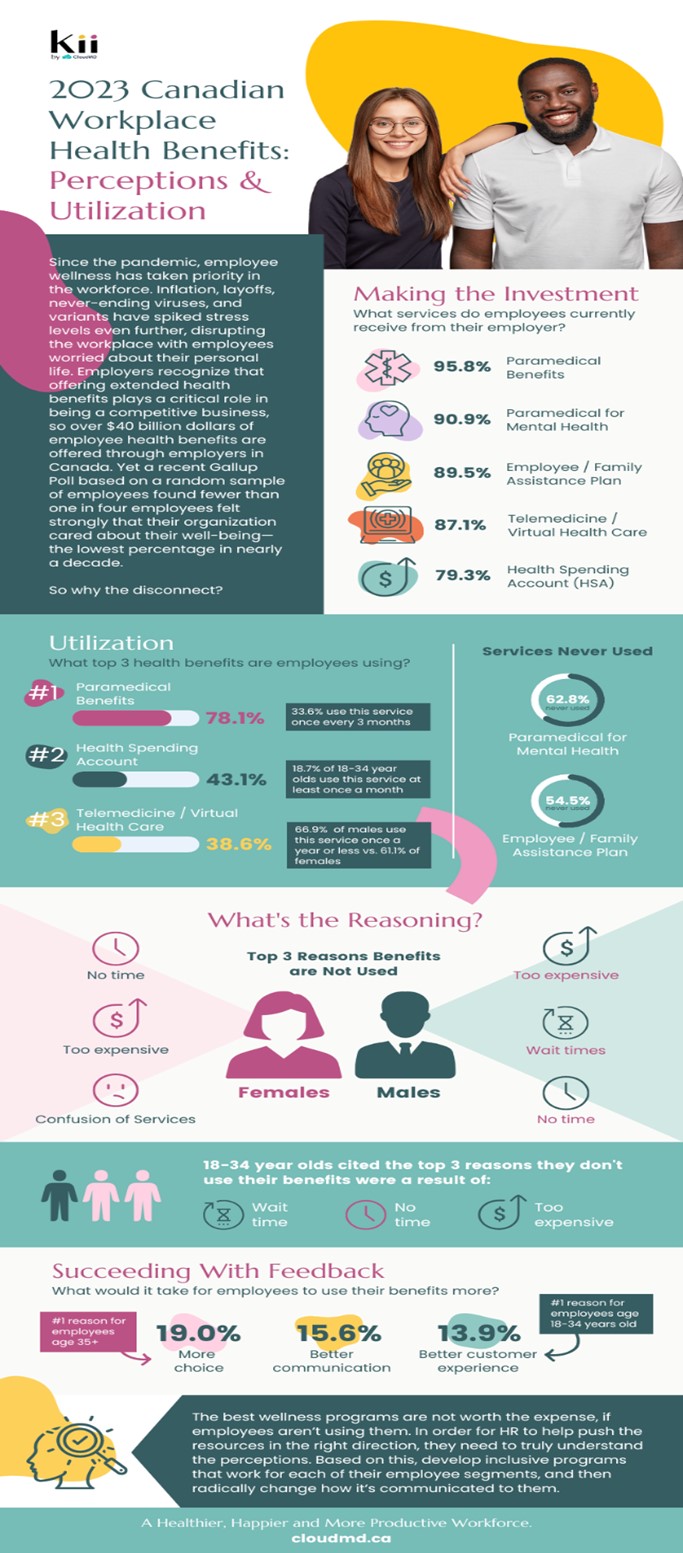 About ANDX
ANDX has been supplying Customer Experience research, reporting, and consulting services for more than two decades working with some of the largest brands across an array of verticals in the US, Canada and around the globe. We have experience managing enterprise-wide Customer Experience programs, measuring multiple moments of truth across and several lines of business. ANDX provides a leading-edge Customer Feedback Management (CFM) platform that enables our customers to analyze results in real-time, together with an account team of industry professionals that become an extension of your team.
About CloudMD Software & Services
CloudMD is an innovative North American healthcare service provider focused on empowering healthier living by combining leading edge technology with an exceptional national network of healthcare professionals. Every day, our employees and health care providers live our values of deliver excellence, collaboration, connected communication and accountability to solve complex health problems. CloudMD' s industry leading workplace health and wellbeing solution, Kii, supports members and their families with a personalized and connected healthcare experience across mental, physical and occupation health. Kii delivers superior clinical health outcomes, consistent high engagement, and measurable ROI for payers such as employers, educational institutions, associations, government, and insurers. CloudMD is also a market leader in workplace absence management through data-driven prevention, intervention and return to work programs.
In addition, the Company sells health and productivity tools to hospitals, clinics, and other healthcare service providers to empower them to deliver better care. Visit www.cloudmd.com to learn more about the Company's comprehensive healthcare offerings.
ON BEHALF OF THE BOARD OF DIRECTORS
"Karen Adams"
Chief Executive Officer
Neither TSX Venture Exchange nor its Regulation Services Provider (as that term is defined in the policies of the TSX Venture Exchange) accepts responsibility for the adequacy or accuracy of this release.
Forward Looking Statements
This news release contains "forward-looking statements" and "forward-looking information" within the meaning of Canadian securities laws, including statements about the Company's growth strategy and profitability. These statements are based upon information currently available to CloudMD's management. All information that is not clearly historical in nature may constitute forward‐looking statements. In some cases, forward‐looking statements may be identified by the use of terms such as "forecast", "assumption" and other similar expressions or future or conditional terms such as "anticipate", "believe", "could", "estimate", "expect", "intend", "may", "plan", "predict", "project", "will", "would", and "should". Forward-looking statements contained in this news release are based on certain factors and assumptions made by management of CloudMD based on their current expectations, estimates, projections, assumptions and beliefs regarding their business and CloudMD does not provide any assurance that actual results will meet management's expectations. While management considers these assumptions to be reasonable based on information currently available to them, they may prove to be incorrect. Such forward‐looking statements are not guarantees of future events or performance and by their nature involve known and unknown risks, uncertainties and other factors, including those risks described in the Company's MD&A (which is filed under the Company's issuer profile on SEDAR and can be accessed at www.sedar.com), that may cause the actual results, performance or achievements to be materially different from any future results, performance or achievements expressed or implied by such forward‐looking statements. Although CloudMD has attempted to identify important factors that could cause actual actions, events or results to differ materially from those described in forward‐looking statements, other factors may cause actions, events or results to be different than anticipated, estimated or intended. There can be no assurance that such statements will prove to be accurate as actual results and future events could vary or differ materially from those anticipated in such forward‐looking statements. Accordingly, readers should not place undue reliance on forward‐looking information. CloudMD does not undertake to update any forward-looking information, whether as a result of new information or future events or otherwise, except as may be required by applicable securities laws.
A photo accompanying this announcement is available at https://www.globenewswire.com/NewsRoom/AttachmentNg/36500f8e-342f-4d41-8fe5-55b2569fd7de